Before stepping into the auction ring, a prospective coin buyer must first learn what coins will be up for sale and how to access past prices. To check past prices for our auctions, go to alaskauction.com. Another excellent resource for U.S. coin value is usacoinbook.com. It's a free online resource created by coin collectors for coin collectors. A good resource for many world coins is numista.com. This is also a free online resource for pricing, selling, trading, and cataloging coins in your collection.
No matter what coins you are looking for, it is essential to familiarize yourself with the coins being auctioned off to have an idea of what coins might be making their way onto the auction block. Coins in our auctions will range from current-day coins to well over two thousand years old. For example, you might see US coins like the Seated Liberty dime (1837 – 1891) or Indian Head pennies (1859 – 1909). We also encounter hundreds of world coins dating as far back as the Ancient Greek Empire.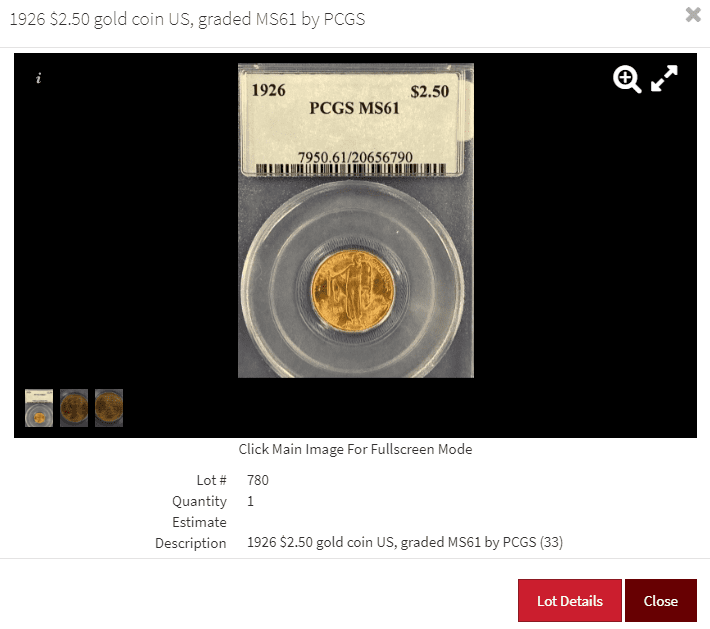 The auction listings will state whether coins are graded and certified by grading companies like PCGS, NGC, or ANACS. If coins are certified, then you can look up their prices online or use a coin book. If coins are not graded and certified, you can look for an estimated grading in the description. Always remember some coins that have been cleaned or mishandled may not be worth near what the coin book says they are.
In our auctions, coins sell for anywhere between $5 and $20,000 (USD), depending on their rarity or desirability. Coins that are rare or desirable make great investments because they increase in value over time.
If you're already familiar with coins – what coins are made of, how big they are, what coins are worth – then buying coins at auction is a great way to boost your collection. You can bid on coins you want or coins you think might be worth more than what you believe the hammer price will be. If coins are new to you, the auction is a great place to learn about coins and how much money they would be worth today. It's also a great chance to see coins you might not be familiar with or coins made before your time.
We have coins coming up for auction frequently, so make sure and check out our current auctions on either HIBID, Alaska Auction Live or download our app from the Apple Store or Google Play